7025 N.Scottsdale Road #302
Scottsdale, AZ 85250
Office : 480-657-7006
Fax : 480-657-7020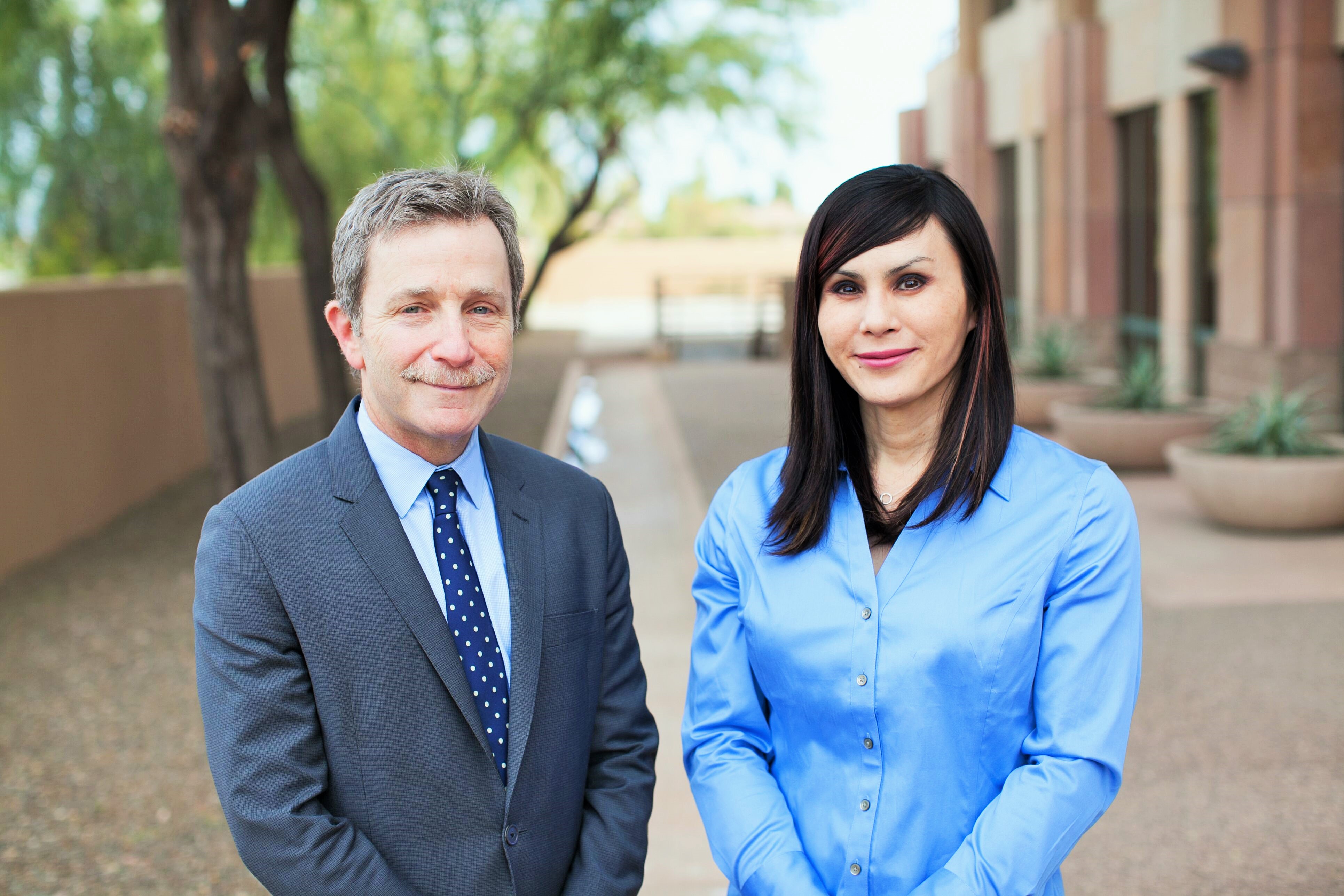 "In February of 2011, I experienced the most challenging and at the same time, the most gratifying and rewarding time in my life. At 66 years of age, I underwent SRS, FFS and breast augmentation. And the results are spectacular. Words cannot begin to describe how pleased I am. Dr. Meltzer is so much more than an accomplished surgeon – he is an artist. Because of him I am now a complete, functioning attractive woman. And throughout it all, Dr. Meltzer treated me with the utmost competence, caring, dignity, respect and most of all kindness. And his wonderful staff did likewise."
"You always feel like your Dr. Meltzer's only patient. While in the hospital, I didn't think he had any other patients, but being in his waiting room a few days later, I realized how many people he serves. I would have never known otherwise because he and the staff are always so present and all the attention is on you."
"From my first meeting with Dr. Meltzer, at the Gender Odyssey Conference in Seattle in 2008, I was confident that I had not only made the right decision to select Dr. Meltzer as my surgeon, but also to move forward with bottom surgery [pedicle flap]. Because phalloplasty is often a contentious discussion topic amongst FtMs, and therefore difficult to discuss openly and honestly in support groups and on listservs, for fear of verbal attack from detractors in the community who believe the procedure to be unnecessary and inadequate, I am grateful to Dr. Meltzer and his amazing staff for their support, dedication and professionalism."
Zander K. 5/7/11
"I couldn't have asked for a better experience with Dr. Meltzer and his staff. Pre-operatively, through the surgeries, and post-operatively, they have been wonderful at answering all of my questions and making me feel more comfortable going into the surgeries, as well as providing post-operative support and guidance. I was particularly nervous going into the urethral extension as I had heard other guys' encounters of having complications with their urethra (not necessarily with Dr. Meltzer, but with other surgeons; I was completely aware that Dr. Meltzer has a really low complication rate and that is one of the reasons I decided to have him do my surgeries). Dr. Meltzer did a great job at putting my mind at ease. I walked out of my pre-op appointment feeling completely assured that things would go well, and they did. To date, I have encountered no problems whatsoever with my urethra.
After getting back home, I encountered a yeast infection. Dr. Meltzer's nurse, Tasha, did an awesome job following up with me via telephone every so often. My local doctor was going to be out of the office for a month after diagnosing my yeast infection. Tasha insisted I call her with any questions I have during that time. She said I could always call her with questions, but particularly since my doctor was going to be out of the office she made it a point to let me know she was available to answer questions.
While recovering from surgery in Scottsdale, only a few days post-op, I found myself unable to sleep due to excruciating pain when I would move around, so I was bed-ridden for the most part. I ended up having to call Dr. Meltzer in the early morning hours and he knew exactly what it was and made it a point to drop by the hotel later that day. It's really nice to have a doctor who makes "house calls" when one is recovering from surgery. Dr. Meltzer's drivers have been really great too. Not only have they been good at communicating changes to my appointment times and such, but they have gone above and beyond the call of duty. In returning to the hotel after having the mons resection (done as out-patient), his driver physically helped me out of the car, walked me into the hotel room and made sure I was comfortable before she left.
Given my experience with Dr. Meltzer and his staff, there is absolutely no way I would have ever considered going to a different surgeon. I honestly can't say enough good things about Dr. Meltzer and his staff!"
Tyler R. 5-8-11
"On Wednesday November 9, 2011 Dr. Meltzer finished something which started when I was a small child. My final step to becoming a physical woman. And he and his staff could not have done a better job.
I did very thorough research on who I was going to allow to change my body,
and every step I took came up Dr. Toby Meltzer. From my first consultation to my last visit before heading home, Dr. Meltzer his staff and the staff at Greenbaum made sure I was completely taken care of. As a matter of fact, on a scale of 1- 10, I would give them a 10.
My local physician said after looking at me, "it could not have looked better."
She told me she wishes everyone who came to see her after surgery
looked as good as I do.
If you are looking for the best look no further than Dr. Toby Meltzer."
I highly recommend that anyone searching for a gender reassignment surgeon consult with Dr. Ellie Zara Ley of the Meltzer Clinic in Scottsdale, AZ. She is a board certified plastic surgeon and micro-surgeon. In my opinion, she added the finishing touches to an already highly skilled group of professionals offering surgical healthcare to the transgender community. I cannot say enough positive comments about my personal experience with her and her commitment to quality healthcare and gender reassignment surgery. For me, Dr. Ley was the tipping point in my decision to have phalloplasty surgery with urethra lengthening verses the metoidioplasty. I also think it helps that she is an out transwoman who "gets it" and who cares about transmen and our success with surgery.
Dr. Burt Webb, a board certified OBGYN and urogynecology specialist, has assisted Dr. Toby Meltzer with genital surgery for many years. He performed the full hysterectomy and vaginectomy during my surgery. It's been two months post surgery and I have not experienced any abdominal pain or bleeding. I met with Dr. Webb the day before surgery, the morning before surgery and the day after surgery. Then a month later he called to follow up.
After the first surgery, Dr. Ley and NP Megan checked on me each morning while I was in the hospital. The Greenbaum Surgery Center staff and The Meltzer Clinic staff have been responsive and timely in their follow up and aftercare. I still have several procedures, which will extend into 2019, but I'm confident that taking my time and letting my body heal in between procedures is the best decision for me.
I was 58 years old when I had the first of the many stages on Jan 30, 2018, which included the full hysterectomy, vaginectomy (with Dr. Webb) and groin flap (suitcase handle). I had very little bleeding during and after surgery. I had to stay an extra night because I forgot to let the medical staff know that I was sensitive to adhesive, which resulted in blistering along the incision of the groin flap donor site (not in the genital area). All is healing well.
The surgery was on Tuesday; I started walking around the room on Thursday and was released Friday afternoon. I had a paid companion helper pick me up at the surgery center and take me to my RV. She made sure I was settled in and able to take care of myself before she left. I began taking showers the day after I was released from the hospital. It was easy to take care of the incisions and the surgery site. I walked outside a little more every day, which helped with my rapid recovery. I went back to work 28 days post surgery.
Two weeks post-surgery the urethra catheter was removed and a week later the supra catheter (used to drain the bladder through the lower abdomen) was removed. So far, the catheters have been the most challenging and uncomfortable/painful part of the process. The urethra seems to have healed without any leaks or other complications. EXCEPT, when I pee, urine goes in all-different directs for several reasons; the flap is blocking my view so I can't see the tip, I haven't yet learned how to control the direction and the new urethra is still healing. So, basically I will still sit to pee until the urethra lengthening to the tip of the phallus in October 2018.
HOW I REDUCED MY EXPENSES: To help reduce the expenses of being in Scottsdale, AZ during the peak season, I decided to go through the surgeries unaccompanied by family or friends. I setup my RV in a local park for the next several months. I precooked and froze meals that I could easily prepare for myself. I stocked the refrigerator and signed onto instacart (grocery delivery service) for when I needed to restock perishables. I took a taxi to my appointments and used a home health care provider/companion after each procedure to make sure I was able to stay alone and take care of myself.
7025 N. Scottsdale Road #302 Scottsdale, AZ 85253
All information @ 1996-2019 The Meltzer Clinic PC.
Photographs provided are anonymous @ 1996-2019 The Meltzer Clinic PC.
Please contact Webmistress with any problems or suggestions. | Sitemap