7025 N.Scottsdale Road #302
Scottsdale, AZ 85250
Office : 480-657-7006
Fax : 480-657-7020

Scottsdale HonorHealth Osborn Campus
7400 E. Osborn Road
Scottsdale, AZ 85251
480-882-4000
Opened in 1962 in downtown Scottsdale, Scottsdale Healthcare Hospital (Osborn Campus) is a full-service acute-care medical center with 337 inpatient beds. It is noted throughout as a leader in trauma, cardiovascular medicine, radiologic technology, neurosciences, orthopedics and residency programs.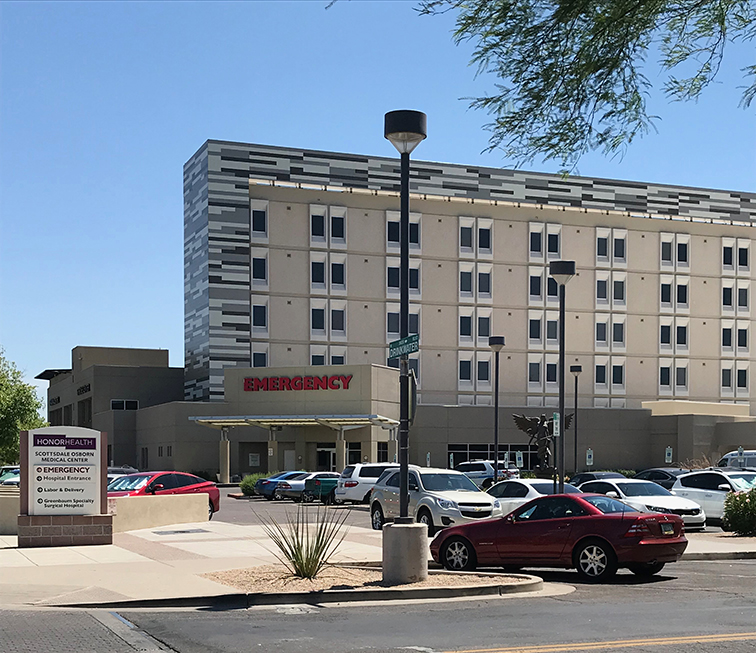 The Medical center expanded to a 55,000 sq ft. Emergency Department and Trauma Center in 2004.Osborn's Level I trauma center  is consistently one of the busiest in the state. The medical center was designated as a Primary Stroke Center in 2005. Osborn serves as the medical anchor
for the city's downtown area.
Scottsdale Healthcare's dedication to providing world-class patient care and serving our community is evidenced by the prestigious designations and numerous awards we continue to proudly earn. These honors span a wide variety of areas. Our patients benefit from the excellent clinical care provided
by our Level I Trauma Center, Primary Stroke Center, accredited Chest Pain Centers and Level III neonatal intensive care unit.
Scottsdale Healthcare Osborn earned Level I Trauma Center verification by the American College of Surgeons in 2008, the highest level of verification for U.S. trauma center capabilities. The verification means the hospital is able to treat the most critical injured or ill patients
because a full spectrum of specialists is available anytime. The Arizona Department of Health Services also renewed its state Level I designation for the hospital.
In 2008, Scottsdale Healthcare became the first in Arizona, and possibly the first in the nation, to post real-time Emergency Room wait times on its Web site. The times represent how long it takes to get a patient from the ER's front desk to an exam room, reflecting the patient in the waiting room with the longest wait.
7025 N. Scottsdale Road #302 Scottsdale, AZ 85253
All information @ 1996-2019 The Meltzer Clinic PC.
Photographs provided are anonymous @ 1996-2019 The Meltzer Clinic PC.
Please contact Webmistress with any problems or suggestions. | Sitemap